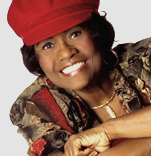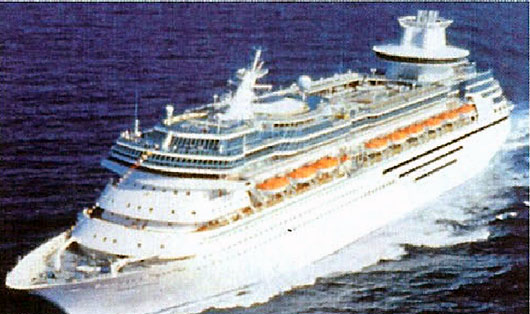 Join Ms. Lillie for her 70th Birthday Cruise. Click here for brochure!
For previous months click here
January 2008
As I enter this brand new year, my heart is filled with thanksgiving for God's faithfulness during 2007. I rejoice in His blessings this past year and I am confident that His divine guidance will be there for me this year as I walk through the doors that He will open.
There is such a sense of excitement as I look forward to what He has in store for me. I hope that you are also feeling this way.
Isaiah 43:19 - Behold, I will do a new thing, now it shall spring forth; shall you not know it? I will even make a road in the wilderness and rivers in the desert.
I am blessed over and over again as I minister at Christian Women's Connections (Stonecroft Ministries). They are launching out in a forceful way to reach unchurched ladies. It is a ministry that is 70 years old. Regular attendees are encouraged to bring unsaved ladies to hear a testimony from powerful speakers. God opened the door for me to become a speaker four years ago and I can say it has been a wonderful experience seeing hearts and lives touched and changed through the Spoken Word and my singing.
Psalm 71:8 - Let my mouth be filled with Your praise, and with Your glory all the day.
Years ago, I would sing regularly for Demos Shakarian, founder of Full Gospel Businessmen's Fellowship International. God used this organization to literally reach around the world. As I would sit in the meetings, one after another businessman would give his testimony about how he became a Christian. Many businessmen came to know Jesus as they were invited by other businessmen to the meetings. What a blessing for me to minister again at a Chapter Meeting recently and to hear more testimonies. God is still moving through this organization and He used me to share/sing about God's faithfulness.
Luke 19:10 - For the Son of Man has come to seek and save that which is lost.
I know it's only January, but I wanted to begin working on the video, Highlights of My Life, which will be shown Wednesday night, April 30th onboard Monarch of The Seas Cruise Ship as many friends are joining me to celebrate my 70th birthday. So, regularly I meet with my video producer....I have seen many videos....had no idea it was so much work, but we're getting there.

In fact, I am so pleased with it that you may even purchase it. Just keep watching my product page. You'll see pictures of me at every age

. By the way, there's still room for you on the cruise (click here for info).
Many folk who live in colder areas come to spend the winter in Sunny California. We call them "snowbirds." There are many Resorts and RV Parks close by, especially in the Palm Springs area, so I am able to minister on a regular basis at them. What a blessing to meet people from all over the United States and Canada. Many tell me they hear music that they've never heard before. God uses me to speak to their hearts through Word and song. The chaplains also have a special anointing to communicate with folk of all denominations.
Acts 1:8 - Ye shall receive power when the Holy Spirit is come upon you; and ye shall be witnesses of Me in Jerusalem, all Judea, and Samaria, and to the ends of the Earth.
February 2008
Seems like everyone I spoke with had the flu, just got over it, knew someone who had it....and guess what, I began to feel sick, fever, scratchy throat, achy all-over feeling....I was in bed for a week....it's no fun being sick....I had to cancel five engagements. As many of you know, I am in full-time ministry and my income is a result of my singing engagements, so when they had to be cancelled, I just prayed to God that He would supply my need....it's easy for me to trust Him in a situation like this....because for nearly 30 years (August 2008 is my anniversary), that was when I walked out of the telephone company into full-time ministry. He has taken care of me as He does the little sparrow. I am feeling like my old self again, thanking God for His healing power, and may I encourage you to believe His Word....when He says:
Isaiah 41:10 - Fear not, for I am with you; be not dismayed, for I am your God, I will strengthen you, yes, I will help you, I will uphold you with my righteous right hand.
What an awesome day to be able to attend the 25th Anniversary of CASA (California Adult Seniors Association), a wonderful ministry that reaches out to the older segment of our society. Many have spent 50-60 years in full-time ministry, and being semi-retired doesn't mean that they are not needed. Quite the contrary, they can be very effective in the church they attend .... the community in which they live .... mentors .... and counselors. We heard wonderful speakers who encouraged us to make ourselves available to be used by God.
Psalms 92:14 - They shall still bear fruit in old age; they shall be fresh and fluorishing.
As always, to be able to minister to Senior's Groups (since now I are one), is a great opportunity. Please let me know if you are having a Senior's Function and would like me to bring a "Joyful Experience" to it. Just give me a call.
What a pleasant surprise to receive a phone call from my producer, Wayne Haun; his opening comment was "I just wanted to call a two-time Dove Nominee (the Christian Grammy)." I released my new CD, "Past & Present", in January '07 and it is one of the five finalists in the Best Inspirational category. I then began to thank God for the honor and am excited to go to Nashville for the Award Banquet, so I'll let you know more (I had been a Dove Nominee back in 1976).

And how are you doing? Are you facing things you never faced before, having pain like you've never had before, financial devastation, family dilemmas ....well, the God we serve is there for you. He promised He would never leave us nor forsake us. If He has ever done anything for you, HE'LL DO IT AGAIN!
Psalms 37:25 - I have been young, and now I'm old; yet, I have not seen the righteous forsaken, nor His defendants begging for bread.
Please remember I am available for Ladies Functions, even a Hat & Tea Party

, Single's Groups (since I am single and satisfied

), Senior's Groups, Concerts, Banquets, Hymn Sings, Private Events....just give me a call.....909-948-2448 and we'll talk (YES, YOU CAN AFFORD ME).
Thanks for your prayers for protection as I continue to travel by plane and as I drive the freeways. A fresh anointing is what I need each time as I get up to minister and proclaim the Good News.
And remember if you want to contribute to the minstry God has given me, it will be run through my account in Springfield and you will receive a receipt, but most of all, it will be added to your account in Glory. God has let many of you be a blessing to me.
Until next time.

Happy to be His Handmaiden,